URBAN & ARCHITECTURAL CONSULTATION

| | |
| --- | --- |
| Opening Speech Geoffroy BOULARD | Source: © Ruby BIRD & Yasmina BEDDOU |
TO THE HEART OF IMPRESSIONISM
Responsible Author: Ruby BIRD & Yasmina BEDDOU (Journalists/Directors) | PARIS - LE HAVRE, 07/08/2022, 14:56 Time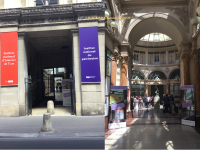 USPA NEWS -
In 2022, on the Anniversary of Impression, Sunrise (Impression, Soleil Levant), the Normandy and Paris Regions propose that Visitors seeking an Invigorating Cultural Adventure Experience the Dawn of Impressionism by going from Place to Place to the Spots that shaped the Young Claude Monet's Palette.
15th TO 21st JULY ON THE RIVIERA
Responsible Author: Ruby BIRD & Yasmina BEDDOU (Journalists/Directors) | PARIS - MONTE CARLO, 07/08/2022, 14:55 Time
USPA NEWS -
Artcurial returns to its Summer Quarters from 15th to 21st July on the Riviera, in the Heart of the Eternally Elegant Monte Carlo. This is an Unmissable Rendez-Vous for Enthusiasts and Collectors of Rare Lots.
| | |
| --- | --- |
| | RAHMA-SOPHIA RACHDI |
| | Daren Frankish |
| | Ruby BIRD |
| | Yasmina BEDDOU |
| | Aurangzeb Akbar |